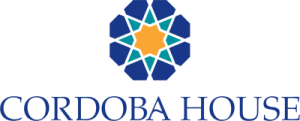 Muslim Leadership Training Program
Fall 2016
Cordoba House, in partnership with Hartford Seminary, will be conducting a series of workshops in Spring 2016, Fall 2016, and Spring 2017 to equip professionals, community leaders, and qualified students to instruct and inspire a new generation of American Muslim leadership. Through the workshops the attendees will learn to conduct religious services, address challenges and provide relevant solutions for Muslims living in contemporary American society. In addition, attendees will gain the skills to serve as bridge-builders with other faith traditions.
The vision for the program is to train moderate, forward-thinking and spiritually well-versed leaders. The workshops will provide a foundation of practical skills, and the knowledge required for individuals to confidently guide and lead within their communities.
All workshops will take place from 9:30am – 5:30pm on Saturdays at 475 Riverside Drive, Suite 1800, New York, NY. Spring 2017 dates will be announced in the coming weeks for the next series of workshops in the program. Interested students are strongly encouraged to register now to reserve a space in spring sessions.
There is no tuition fee for this program, however students must complete the registration form below, submit a short essay, and be formally accepted in order to attend. Once you have submitted the following documents to ng@cordobahouse.com, you will receive an email confirming receipt and updating you to the status application.
WORKSHOP SERIES C – Fall 2016
Islamic Law: Fundamentals and its Relevance to American Muslims
Workshop One: Fundamentals of Shariah Law: Methods and Approaches (October 29, 2016)
Workshop Two: Islamic Law in the Context of America (November 5, 2016)
Workshop Three: The Roadmap Ahead: Developing an American Fiqh (November 12, 2016)
This series of workshops will provide students with a substantive understanding of the objectives of shari'ah law and the development of Islamic jurisprudence (fiqh). During the course of the workshops, students will learn the differences between shariah law and fiqh, and review different schools of thought. After reviewing key texts that have shaped Islamic jurisprudence, instructors will moderate a dialogue on the guiding values that are inherently common in both shariah law and American constitutional law, such as the well-being of a nation's citizens, and the challenges. From this discussion, students will explore the concept for an American Muslim fiqh, and how community members can best integrate the values of shariah with a modern American lifestyle.
WORKSHOP SERIES D – Spring 2017
Leading with Islamic Spirituality
During this workshop series, students will explore the origins and development of Islamic spirituality (tasawwuf), and the practices of purification (tazkiya). By learning about how a person can spiritually progress through the disciplines of self-purification (tazkiya), including exploring salat, dhikr, and fasting as established by Prophet Mohamed (PBUH). Students will gain a sensitivity for leading and assisting others in their personal journeys towards spiritual development.
While exploring the practices and values intrinsic to Islamic spiritual development, students will acquaint themselves with shared values inherent in other major faith traditions and communities in the United States. These values will be used as a basis for learning about successful interfaith dialogue and partnerships. Through robust discussions with interfaith leaders, students will identify the unique challenges facing American Muslims, and how lessons learned from interfaith experiences can assist in building a stronger American Muslim community.
Click here to download the program flyer.