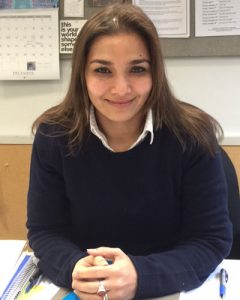 Naz Ahmed Georgas is the Executive Director and a founding member of Cordoba House, a not-for- Profit organization based in New York dedicated to building bridges with the interfaith community and promoting a distinctively compassionate, spiritual and pluralistic American Muslim identity.
Naz joined Cordoba as Program Director in 2013. Her deep personal commitment to community building and passion in promoting spirituality inspired her to develop, design and administer its two flagship programs: The Cordoba House Sunday School, to educate Muslim children and youth, and The Muslim Leadership Training Program, to train upcoming leaders within the Muslim Community.
Since 1997 Naz has worked studied and lectured under the guidance of Imam Feisal Abdul Rauf and has been actively engaged in connecting the Muslim and Interfaith communities in various joint initiatives to promote interpersonal friendship and advance understanding among faith leaders and communities. She has also helped in the establishment of weekly spiritual and social programs.
Naz graduated from the School of International and Public Affairs (SIPA) at Columbia University and worked at various UN agencies and Faith Based organizations including the UNOPS, UNDP, World Council of Churches, National Council for Women and Women's World Banking.
Born and raised in a diplomatic Bangladeshi family, Naz is a global citizen and has lived in several countries including France, India, Japan, Australia and Singapore. She is currently living in Tribeca, New York with her husband David and three children Jibrail, Isa, and Sofia Nur.