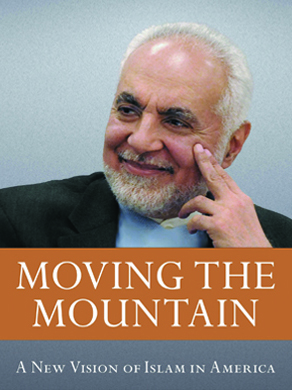 In Moving the Mountain: A New Vision of Islam in America Imam Feisal delivers an open and honest clarion call, inviting readers to a deeper understanding of the role of moderate Muslims in America and in the world, triggering an entirely new conversation about Islam. Drawing on his personal experiences as a teenager struggling to define his Muslim identity, to meeting the challenges of being a son of a prominent imam, and ultimately facing a national crisis surrounding the lower Manhattan community center, Imam Feisal explores the issues effecting Muslims in America today, presenting a fresh perspective and providing a common ground for Americans of all faiths and beliefs.
If you are trying to MOVE A MOUNTAIN, this book will resonate with you and provide insightful information on how we can all become part of a larger movement to replace fear and ignorance with respect and dignity.
---
Order your copy of Moving the Mountain
Moving the Mountain: A New Vision of Islam in America is available for purchase at the following retailers:
---
Reviews and Excerpts
Spirituality and Practice, Book Review, July 2012 [PDF].
The Global Observatory, New Book by 'Ground Zero' Imam: Moderation in the Face of Extremism, May 22, 2012 [PDF].
Huffington Post, 'Moving the Mountain' by Imam Feisal Abdul Rauf (EXCERPT), May 8, 2012 [PDF].
Library Journal, Spiritual Living, May 3, 2012 [PDF].
Publisher's Weekly, Religion in Review, April 9, 2012 [PDF].
Kirkus Reviews, Moving the Mountain, April 1, 2012 [PDF].
---
Reader Feedback about Moving the Mountain
"I just finished reading Imam Feisal's book: Moving the Mountain. This 200 page book addresses the current hot button issues which Muslims in USA are facing. Imam Feisal provides Quranic and Hadith references for issues we have been grappling with, topics like: 1) Shariah in America 2) Islam and other religions 3) Modern Muslim Women 4) Muslims Fight against terrorism 5) Islamic State–what does it mean and how does one measure its effectiveness (Shariah index) 6) Intercultural and intereligious marriage–are there different rules for the two genders?. He also takes the reader 'behind' the 'ground zero mosque controversy'. …In my view the book is a perfect gift for your non-Muslim colleagues."

– Prof. Faroque Ahmad Khan, MB, MACP, Islamic Center of Long Island
"The new book is terrific. Really lucid and hard hitting. It will certainly be an education for Americans and a challenge to traditional Muslims around the world."

– The Rev. Richard N. Chrisman, Ph.D., Director of Religious and Spiritual Life, Skidmore College
"I am very impressed by Moving the Mountain and when I read the words spoken by Imam Feisal at the memorial service to the brutally murdered Daniel Pearl, I have to admit tears were in my eyes. This book should be essential reading for every Member of Congress and every High School Student in the USA."

– Yahya Merchant, via Facebook
"We Baptists don't have "saints," other than the writers of the gospel of our Lord and Savior Jesus Christ, but if we did, I'm pretty sure that Imam Feisal would be at least a nominee. He is doing what Jesus Christ commanded while obeying the laws of Islam and honoring The Prophet. Centuries from now, high school students will read in their books of Imam Feisal's fearless and heroic God- and unbiased humankind- respecting leadership with whom he has blessed people, of the U. S. and the world, of all faiths, setting an example for all of us. We all worship the same God (we agree there is only one, don't we?), so let's recognize those God sent to lead us."

– Jerry Fox, via Facebook
---
Advanced Praise for Moving the Mountain
A spirited, accessible defense for all believers."

– Kirkus Reviews
"Imam Feisal Abdul Rauf is an inspirational and erudite exponent for the Muslim world. This tale of his journey is a clarion call for a progressive and pluralistic Islam as a bedrock of tolerance and understanding. Believers and adherents of all faiths must stand in solidarity with this global spiritual leader whose cry for religious freedom and human dignity must be heard."

– Rabbi Marc Schneier (President) and Russell Simmons (Chairman), The Foundation for Ethnic Understanding
"Inspiring, honest, and insightful, Moving the Mountain crosses the bridge from East to West and demonstrates the vital role that American Muslims can play in strengthening the voice of religious moderation across the world. Imam Feisal eloquently reminds us that women's rights, religious harmony, and equality are core values embedded in Islam, and he challenges us to confidently embrace that mandate today."

– Her Majesty Queen Noor Al Hussein of Jordan
"Imam Feisal is an ideal ambassador: an immigrant to America, a defender of its principles, and a believer that people of diverse backgrounds and faiths can thrive within its borders. Here, he has put his gift of storytelling in service of the empathy that all of us -Muslims and non-Muslims alike – so desperately need."

– Arianna Huffington
"Feisal Abdul Rauf is a name that one day should come as easily to the lips as do the names of Martin Luther King, Jr. and Gandhi. It is my hope that when my fellow Americans read this incredibly moving and enlightening book they will feel the scales of ignorance and fear falling off their eyes — and they will rage at those who have led them to believe that Islam is their enemy. I rejoice at our good fortune that Imam Feisal is one of us, a true American who, with gentleness and love, seeks to bring us all together in post-9/11 America."

– Michael Moore
"In this thoughtful book, Imam Feisal explores the need to create an American Muslim community that fits in with the nation's traditions of pluralism and tolerance. It is an important contribution to understanding Islam and the struggle against extremism."

– Walter Isaacson, bestselling author of Steve Jobs and President, the Aspen Institute
"Everybody should read this book. It shows us the dangers of our past course and where we should be aiming."

– Karen Armstrong, bestselling author of Islam: A Short History and Muhammad, A Prophet for Our Time
"Imam Feisal Abdul Rauf is arguably the most influential Muslim leader in America. His bold vision of a moderate, pluralistic, and distinctly American Islam is something that all Americans – Muslim and non-Muslim alike – should champion."

– Reza Aslan, bestselling author of No god but God and Beyond Fundamentalism
"Imam Feisal's voice is one that Americans and Muslim's world-wide need to hear; and Moving the Mountain is a book both need to read. He teaches an authentic and beautiful Islam, and demonstrates just how compatible his religion is with core American values."

– James Zogby, President, Arab American Institute and author of Arab Voices: What they Are Saying to Us and Why It Matters
"Imam Feisal has provided an erudite and insightful look into the future of Islam and America, identifying those values that could bridge differences between Muslims, Christians and Jews. This is a book about how religion can bring people together, heal wounds, and show a future of hope and coexistence."

– Vali Nasr, bestselling author of Shia Revival and The Rise of Islamic Capitalism
"An authentic voice, an essential vision, a heartfelt story. Imam Feisal Abdul Rauf's Moving the Mountain can – and should – move America."

– James Carroll, bestselling author of Constantine's Sword and Jerusalem, Jerusalem
"Moving The Mountain is wise, authentic, and courageous. Every American needs to read this transforming and spiritually insightful book about the profound hope American Islam offers the world."

– Rabbi Irwin Kula, President of The National Jewish Center for Learning and Leadership
"Imam Feisal personifies the most noble and sublime teachings of Islam that seek to advance the wellbeing, happiness, and flourishing of all people. At a time when religion is tragically and violently hijacked by those who desecrate its name, the need to hearken to his articulate voice is greater than ever."

– Rabbi David Rosen, Interfaith Advisor to the Chief Rabbinate of Israel